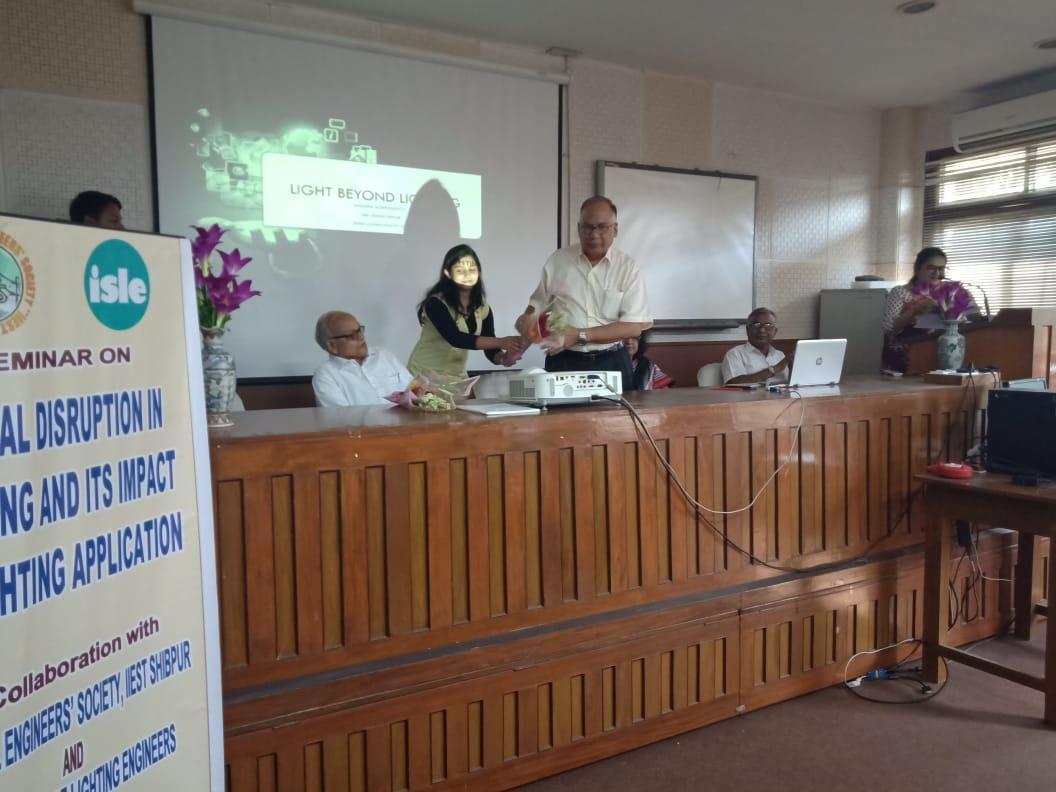 A Seminar on DIGITAL DISRUPTION IN LIGHTING AND ITS IMPACT ON LIGHTING APPLICATION, held at the Electrical Engineering Dept. IIESTS
There was a seminar in the Electrical Engineering Seminar room of IIEST, Shibpur on 25th October 2018. It was jointly organized by the Electrical Engineers' Society, IIESTS and the Indian Society of Lighting Engineers (ISLE), Kolkata Chapter.
Ms. SudeshnaMukhopadhyay, Chief Design Officer at IBahn Illumination Pvt Ltd, ex Head-Philips Lighting Design Centre and Lighting Academy delivered a highly informative, and enriching talk on the Latest Developments in Illumination Design and Control. The topic was DIGITAL DISRUPTION IN LIGHTING AND ITS IMPACT ON LIGHTING APPLICATION
The seminar was attended by the faculty members of the Electrical Engineering Department and the Department of Architecture, along with the office-bearers of ISLE. There was huge participation of the students from both these Departments and a Quiz was conducted for the students by Ms. Mukhopadhyay.
Illumination is not just the primary source of vision but it influences our lifestyles and habits. It shapes and modulates the complete space design and architecture of a place. Certain new factors came into focus during the deliberation that affects the design of a proper lighting system such as melanopic lumen, a new photometric measure of light intensity (which is termed "melanopic") and photobiological safety, etc. The control of the blue spectrum on the melatonin pigment and how it influences the human sleeping pattern was discussed. In concise, the physiological effect of lighting, its Science and Engineering was interestingly presented.
Light is mainly specified by intensity, time of day, wavelength and light distortion. It is mainly produced by heat, electromagnetic radiation, and semiconductors. Lighting pollution is another aspect that needs attention and taken care of.
At present, there is a new age big bang in the lighting industry. More emphasis is given on wireless light controllers, smart and IoT based lighting systems, architectural integration with the help of technologies like WIFI/BLE/ZIG Bee/Bluetooth/LIFI. And now there has started a protocol war in lighting applications where the lighting industry needs the help of IT experts. Thereafter the Illumination Engineering is no longer a prerogative of the Electrical Engineers, the Architects and Electrical Engineers, Instrumentation, and IT Experts dominate this scene along with the physicists who come up with new concepts in lighting philosophy.